Security Blankets
Collaboration with
Cem Eskinazi
and
Llewellyn Hensley
.
This project explores the nature of security and susceptibility. As we become increasingly vulnerable to breaches of privacy, we also become more reliant upon the invisible systems that encrypt our data (such as identity, credit, taxes, biometrics).
These patterned blankets thus serve a dual purpose: providing psychological comfort and making structures of information security visible.
Circulation
As part of the 2015 RISD Graphic Design Triennial,
Dimensions Variable
, co-curated by Lisa Maione and Gabriel Melcher, I was invited to develop the graphics for an installation at RISD's Fleet Library, where student work was displayed alongside circulating books from the library's collection, highlighting the transmission of ideas from library to student work and back again.
Letterforms are fragmented and dispersed on the risers of the library's main stairs, only coming into alignment as you move through the space. The word does not have one point of visual resolution; it requires multiple perspectives to complete the read.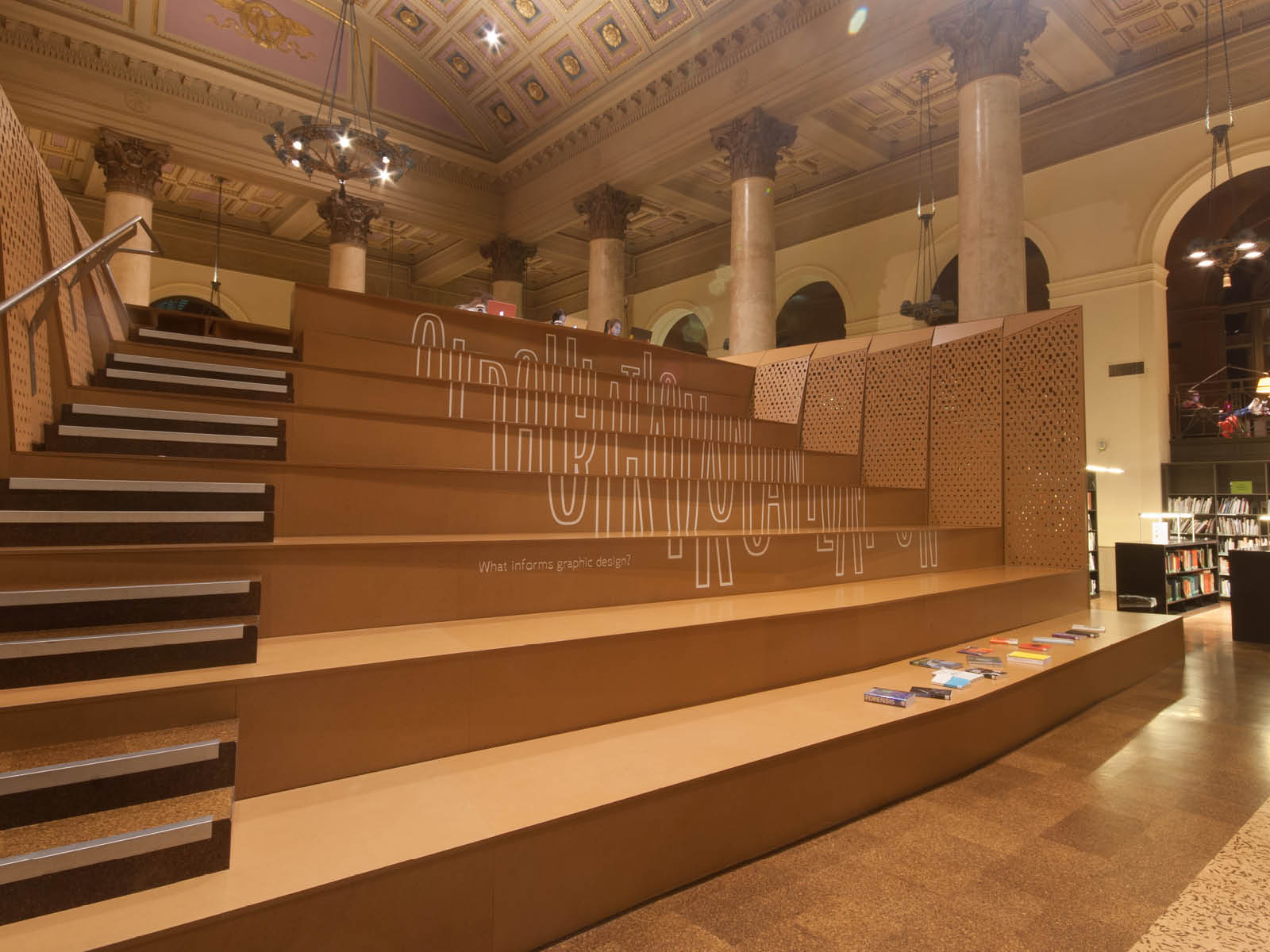 Special thanks is due to friends and colleagues who helped with the installation:
Rebecca Leffell Koren
, Rapha Koren,
Bon hae Koo
, and of course,
Gabriel Melcher
and
Lisa Maione
. Thanks also to
Prin Limphongpand
, for furnishing his typeface
Poster
for use in this installation.
v1 2016 : A RISD Grad Journal
The inaugural issue of
v1
, a renewal of interdisciplinary graduate student publishing at RISD. The publication was conceived by an interdisciplinary group of graduate students from across RISD, under the guidance of Jen Liese and Patti Phillips, and was designed in collaboration with
Mary Yang
,
James Chae
, and
Prin Limphonpand
.
Contributors: Ala Tannir, Emily Grego, Jillian Suzanne, Paul Rouphail, Jagdeep Raina, Diane Lee, Drew Litowitz and Edek Sher, Mary Yang, Tristram Lansdowne, Nick Missel and Thalassa Raasch, Maggie Hazen, Rosalind Breen, Chris Goodale, Lisa Maione, Feiyi Bie, Sakura Kelley and Daniel Morgan, Hannah Bigeleisen, Caleb Churchill, Melissa Weiss, James Chae, Maggie Hazen and Tristram Lansdowne, Anne West, and Reya Sehgal